The Rod Pierson Big Band featuring Craig Boche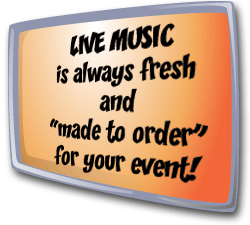 For any event, there is no substitute for the class and excitement that a Big Band can create. The arrangements are authentic and selected from the libraries of America's most popular artists. The Rod Pierson Big Band has a history of over 25 years performing for audiences at a variety of public and private events throughout the Midwest. Many of the band members have been involved from the beginning – a point that should not be overlooked when considering a match to your unique musical needs. Add to this Craig Boche's vocal delivery and style at the mic and you'll enjoy a dynamic and entertaining presentation ranging from Martin & Sinatra's Rat Pack classics through Bublé & Connick's fresh approach to Big Band today.
The Rod Pierson "Not So" Big Band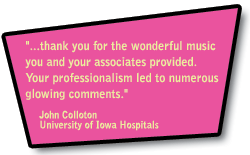 The "Not So" Big Band plays a variety of music including big band, jump swing, latin, jazz standards, dixieland, blues and rock. Vocalist Craig Boche performs hits spanning decades of America's most popular singers. The smaller size (7) allows for a bit more flexibility in programming. The arrangements are written specifically for vocal, sax, trumpet, trombone, piano, bass, and drums. The "Not So" Big Band is a great choice for your wedding reception, private party, or corporate event. The smaller ensemble provides a big sound at a reduced cost for budget and space considerations. This group really entertains!
---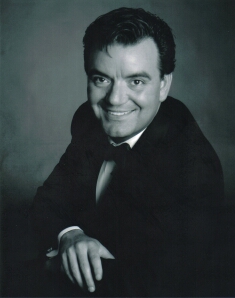 Craig Boche"I just love the music. I love the old school swing sound. I love the crooning and the lyrics and the romance that make girls weak in the knees. I love the swagger and attitude of Frank. I love the smooth and cool of Dean. I love the perfect sound of Nat Cole's voice. I love the versatility & swing of Bobby Darin. I love everything about it, everything! No other music can make me feel like this kind of music makes me feel."
Craig Boche has been the featured lead vocalist for the Rod Pierson Big Band since 2006. His performances include the songs made popular by Sinatra, Martin, Cole, Darin, Harry Connick, Jr., Michael Buble, and so many more. Combining Boche's talent and off the cuff humor with a top-notch songbook creates a performance full of the sound, charm, and attitude one would expect from a member of the Rat Pack. While he performs these great songs with their deserved reverence, he somehow is able to transform them into something fresh, current, and attractive to audiences of all ages. Like everyone else, Boche stands on the shoulders of those before him. He is influenced by them, but he is his own man. Both in style and presence he is unique - his sound is his own.
Boche was immersed in music from a very young age. He grew up in an immensely talented professional musical family and learned about performance from his father, a Bavarian vocalist and musician (yes, he yodels).
Growing up, Boche's taste in music differed from the average teenager. While his classmates were rocking to hair bands and punk music, he was listening to Nat Cole. He knew what he liked and he stood by it. "Kids can be mean. It wasn't easy loving Sinatra when the rest of the high school wore Quiet Riot t-shirts or dressed like Cindy Lauper. I was kind of picked on." Instead of folding to peer pressure, Boche embraced his music even tighter. The "top 40" songs on the radio were fine, but most of them weren't particularly impressive (either in lyric or voice) to him. Having to defend his musical taste only made him more passionate about it.
He didn't attempt to sing professionally until after he graduated from the University of Iowa in 1990 with a Bachelors Degree in Business. After moving to Des Moines, he found himself in a strange city, with no family, no friends, and working a job that he didn't enjoy. Other than phone calls home to family, the only thing he had was his music. He listened to recordings of Martin and Sinatra that his grandfather had given him. He played them all day and night, 24/7, even while he slept. He played them when he left the apartment, so they would greet him when he got home. He sang in his car imagining himself as Harry Connick, fronting the band for "We are in Love" or "Recipe for Love." This music was his escape. It let him dream up a new, better reality. He spent nearly a year of his life singing along with his idols. Imagining himself performing. Putting himself in their place. Then one day, he decided to ACTUALLY escape. He simply stayed in his newfound reality. He thought, "Peter Pan did it, why can't I?" He figured out a way to turn his music into his life. A year of belting out imaginary vocals at imaginary shows turned out to be anything but imaginary. It turned out to be practice, preparation, education, and …..training.
Aware that he needed to branch out and make connections, Boche auditioned in a Des Moines theater. As fate would have it, these actors talked him into trying this new "karaoke thing" that allowed people to sing at local clubs. Boche tried it out and the audience went crazy. It was then that he realized that he could use his voice professionally. He worked with a piano player from the theater and performed at state fairs, private parties, and local clubs singing many of the same songs that he sings today. Along with that success, he purchased a karaoke machine and brought it to the Iowa City/Cedar Rapids area and "Singin'-n-Swingin' Entertainment" was born. Very soon, Boche expanded the business, accumulating multiple machines and forming a troupe of other professional vocalists, working and performing shows throughout Iowa.
In 2004, Boche released his intro CD, "Singin-N-Swingin," to radio stations. That same day, he received a call from Kevin Alexander, the station manager at KMRY Radio asking "do you believe in fate?" Alexander explained that while listening to Boche's CD, he had received a call from Julia Rich, (Lead Female Vocalist and Manager for the Glenn Miller Orchestra (GMO)). Ms. Rich was looking for a strong new Lead Male Vocalist for the GMO. That started a whirlwind month in which Boche found himself scrambling to get a passport (for a GMO tour in Japan), getting publicity headshots, memorizing the GMO songbook, and driving to Michigan for an audition. He auditioned and was offered the job, but sadly, due to scheduling and other conflicts, was unable to accept the dream opportunity. He worried that he had made a mistake in passing on the offer, but that is when fate stepped in again.
The people at KMRY Radio became fans of Boche. When they learned that The Rod Pierson Big Band needed a vocalist, they quickly put the two in touch with each other. A partnership was formed. Their first gig was the inaugural "Sweethearts Ball" and in preparation Boche and Pierson produced and recorded their first CD together, releasing it on that very night. Boche and the band have been performing together ever since.
While most of his performances can be seen in Iowa, Boche is not opposed to traveling. He has performed throughout the Midwest and on both coasts. Although Boche is fairly well traveled his father reminds him that no one is truly a star until they yodel at the Hofbräuhaus (in Munich, Germany). Boche and members of the The Rod Pierson Big Band were invited and performed in Washington D.C. at the 2013 "First in the Nation Inaugural Ball" for Joe Biden, Michelle Obama, and many other political dignitaries. A feather in the cap for sure… but still not the Hofbräuhaus.
Boche is in his element while standing in front of a crowd. He's fun. He's charming and charismatic. He's witty. He's incredibly talented. His performances are personal. He sings from his heart. Whether a ballad or a swing tune or anything else, Boche always connects with his audience because they know they are getting the "real thing." He wants you to experience the music the same way that he has always experienced this music… with passion… and excitement … and most importantly while having fun. When asked to talk about Boche's talent, Julia Rich said it best, "Harry Connick & Michael Buble have nothing on Craig."
Combine Craig Boche with Rod Pierson, along with the world class musicians in The Rod Pierson Big Band, and you'll need to prepare to be entertained on a whole new level!
---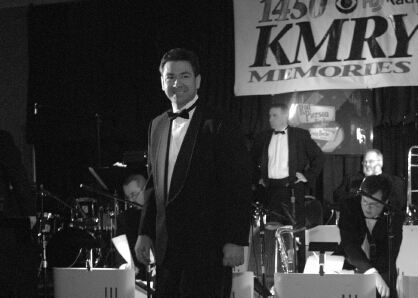 Along with his passion for creating great music, Rod Pierson enjoys the special interaction with people that can only be shared through live music. He adds, "This music is still very much alive and topical...reaching a special place inside everyone who experiences it. With Big Band once holding the distinction as "America's Most Popular Music" and Jazz often being referred to as "America's Gift to The World", I believe as long as people appreciate songs about love and relationships (good and bad), Swing and Jazz music will continue to speak to us with vitality and meaning."
Rod's experiences as a musician include long term stints with The Glenn Miller Orchestra, Jimmy Dorsey Orchestra, The Moe Band, Hunter Fuerste's Vintage Orchestra, and the Guy Lombardo Orchestra. Jazz credits include performances with Woody Herman, Natalie Cole, John Pizzarelli, and Ann Hampton Callaway to name a few. Rod has also backed such popular artists as Aretha Franklin, Burt Bacharach, The Tempatations, Bob Hope and more. Add to this a list of nearly 20 different Broadway Musical touring company pit engagements, and you can understand the standard for quality that Rod strives to meet with every performance.
The Rod Pierson Big Band Featuring Craig Boche is rapidly gaining widespread success due to not only Rod's personal experience, but by equally noting the musicians he is surrounded by. Each band member's energy and experience are viewed as key ingredients to the distinct sound they produce together as a unit. The Band's delivery is fresh, tastefully irreverent, and can best be expressed as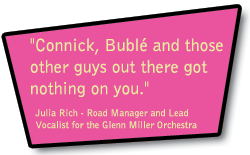 Over the years, the Rod Pierson Big Band has made hundreds of appearances throughout the upper Midwest and beyond. In addition to over 300 performances at weddings and corporate events, here are some of the band's favorite venues:
Iowa City Jazz Festival
Catfish Bend Casino
Riverside Casino and Golf Resort
Mesquaki Casino and Resort
Quad Cities Symphony
Cedar Rapids Symphony
Diamond Jo Casino
Hancher Auditorium
University of Iowa
Cornell College

Dubuque Arts Council
Pipac Center (Cedar Falls)
Cedar Rapids Country Club
Elmcrest Country Club
Wakonda Country Club (Des Moines)
Willow Creek Country Club (Des Moines)
The Outing Club (Davenport)
The Four Seasons
Town Club
Congenial 100 Dance Clubs
Explore more about Jazz and Big Band music
here
Always know where we'll be swinging next - join the band's